Over the past few weeks, I have been settling into my new position as the Director of the Lillian E. Smith Center (LES Center). During this process, I have started to read more of Smith's work and learned more about her life and social justice work, specifically through the Laurel Falls Camp and during the Civil Rights movement. There is a lot I could talk about with Smith, but instead of running through a litany of facts and quotes, I want to take a moment and share some the things I have been doing at the center and some of the upcoming events that we have planned.
One of the major things that I have been working to accomplish is growing the center's social media presence. The center has had a Facebook page for a while, and I am working to expand onto Twitter and eventually other platforms. (You can follow the LES Center on these platforms by clicking the links above.)
While I was at the Ernest J. Gaines Center, I took to writing a twice-a-week blog for the center that highlighted items in the collections or topics related to Ernest J. Gaines in some way. I am not planning to do that for the LES Center; instead, in conjunction with the typical text and image based posts on social media, I am constructing short videos about Smith, her work, or works that could be read in connection with Smith.
The first video went live July 22. In that video, I talk about Smith's views on the relationship between authors/artists and their audience. Her discussion of these relationships reminds me, in many ways, of Frank Yerby's comments and thoughts. While he wrote to get the bigots, I wonder how many of his readers, if they harbored racist thoughts, actually understood what he was trying to do with his works.
The second video I posted focused on Smith's open word to her book The Journey. There, she writes about the things we bring with us as we travel throughout the world, our beliefs and fears. What I look at in this video is essentially a condensed version of what I wrote about a few posts ago when I discussed Smith's words in relation to Jamaica Kincaid's A Small Place.
In the third video, I looked at one of Smith's responses to a reader who asked her why Nonnie, in Strange Fruit, went into domestic service. The reader wondered why Nonnie, a college graduate, would choose to work as a domestic instead of pursuing other employment opprotunities. Smith points out that opportunities for Black women in the South during the period in which the novel was set were limited. In looking at this, I talk about Nonnie in relation to Hannah Simmons in Frank Yerby' s "White Magnolias" and how Beth Thomas' mother thinks that Hannah, a woman who is about to pursue her graduate degree, would be better off working as a domestic for Thomas family.
In conjunction with the videos, we also host programs at the LES Center. This fall, I'm extremely excited about two of the programs that we have coming up. One will be held September 17 at Piedmont College. For that program, Michał Choiński will present "Between the 'Twilight Zone' and 'Intellectual Deafness': on Lillian Smith's and Katherine Du Pre Lumpkin's Southern Social Autobiographies," and there will be a screening of Hal Jacobs' Lillian Smith: Breaking the Silence.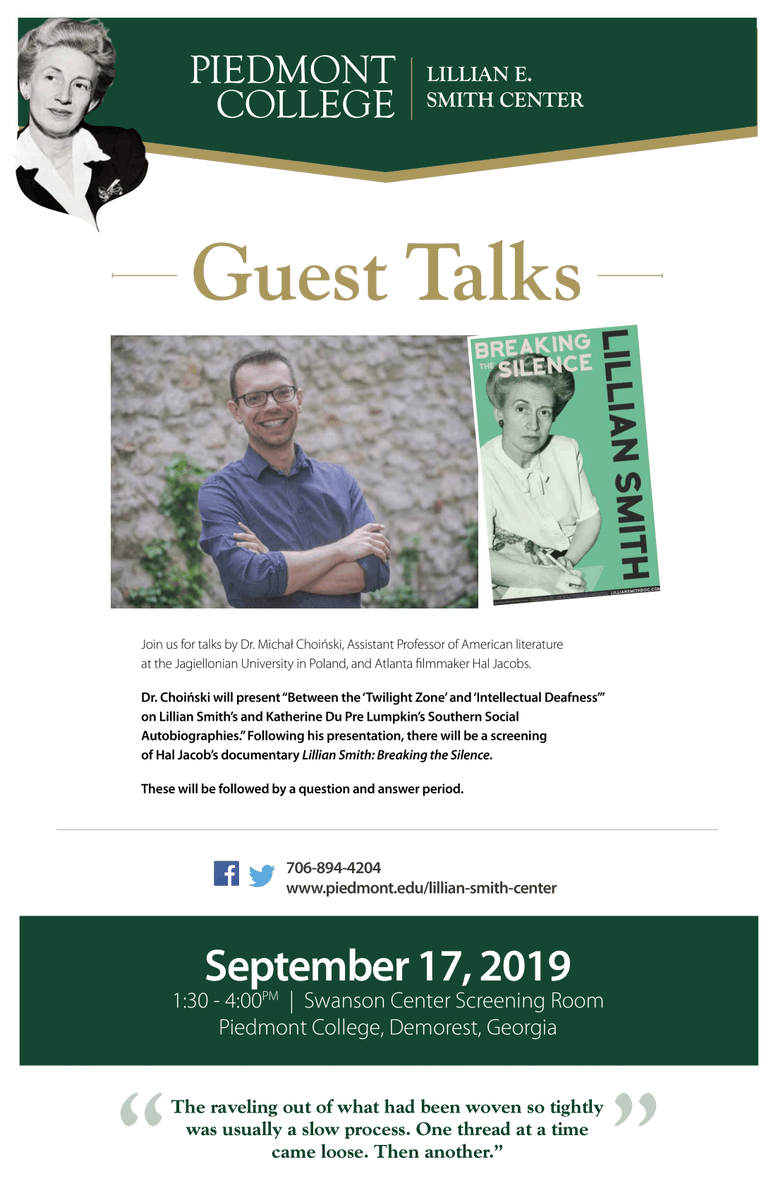 On October 26, in Athens, GA, we will host the 2019 Lillian E. Smith Symposium to commemorate the 75th anniversary of Strange Fruit and the 70th anniversary of Killers of the Dream. Each of these books are still extremely important today, for various reasons. When I think about these books, and Smith, I think about a recent trip I took to the Rabun County Library in Clayton, GA, the town where Smith lived for most of her life. At the library, I went into the used book room to look around and possibly buy some books. While in there, I found Killers of the Dream, and when I mentioned it, a woman working there asked if I saw the copy of Strange Fruit. I told her I did but I already had a copy.
A woman who was also browsing said she didn't read much but someone told her she should read the book. She asked the workers what it was about, and they told her it dealt with racism, even stating it was set in Clayton. (It's actually set in the fictional Maxwell, GA.) The woman picked up the book and bought it. Along with this woman, I also spoke to someone who mentioned that a lot of people in the area where Smith lived do not know who she is or that she was from the area. They do not know the things she stood for and the work she did, especially at the camp. They do not know how she probed into the white psyche and dissected it. They do not know that she fought adamantly for social justice and equality. They need to know.
The symposium is a way to spread the knowledge of Smith's life and work. Speakers such as Dr. Tanya Bennett, Dr. Patricia Bell-Scott, Dr. Ben Railton, Emily Pierce, and Hal Jacobs will all be there to discuss various aspects of Smith's life and work, celebrating her legacy and talking about the continued importance of her voice in our current moment. You can find more information about the symposium and the speakers at our website.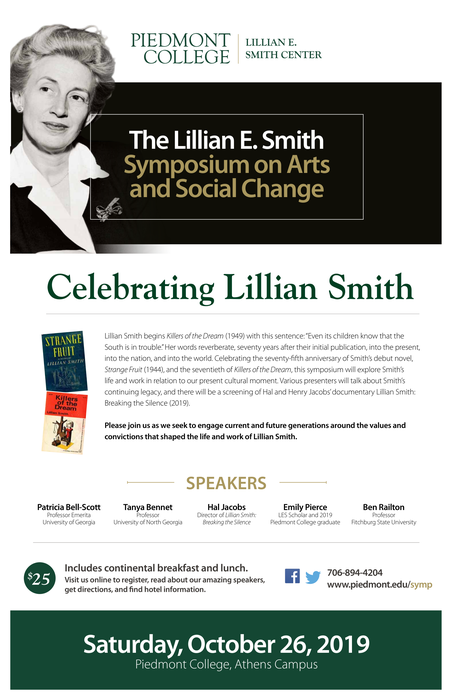 I look forward to sharing more about Smith with you in the future, and I hope to see you at some of these events. If you need more information about the center, you can find it at the LES Center's website.